CMAS 4.5 Release Information
CMAS 4.5 has been released in December 2013.
In this version, linear homogenization analysis feature has been implemented in the GUI of Workbench environment.
Further, linear homogenization analysis feature of temperature dependency and new template for micro modeling have been added.
【CMAS 4.5: Storage location】
Top Category > CMAS
【Notes】
*Please register from the link above if you have not yet registered to use our WEB site support Quick-A.
CMAS 4.5: Release Highlights
Workbench GUI supports linear homogenization analysis
CMAS was available only in a GUI environment of Ansys "Mechanical APDL" that is operating environment for specialists, in previous version. In the new version 4.5 of CMAS, it is available in "Ansys Workbench" that has excellent operability and is an operating environment for designers (linear homogenization analysis only). This allows carrying out of a multi-scale analysis easily without the need for special operation education to the current users of Ansys Workbench.
Using the unique features possessed by the Ansys Workbench enables uses, such as "material library management," "robust meshing/modeling," and "various CAD interfaces," etc. in a multi-scale analysis.
Especially, it is possible to predict the eventual impact on the products when modifying the geometric information at the material structure level, such as "Young's modulus with respect to the orientation angle of the fibers" and "characteristics of the thermal conductivity with respect to the volume fraction of the filler" etc., in a short period of time by using parametric analysis.
The main features of CMAS of the Ansys Workbench edition
Multiple modeling templates
Report output of an equivalent property value
Automatic registration of engineering data
Contour vector display of numerical material test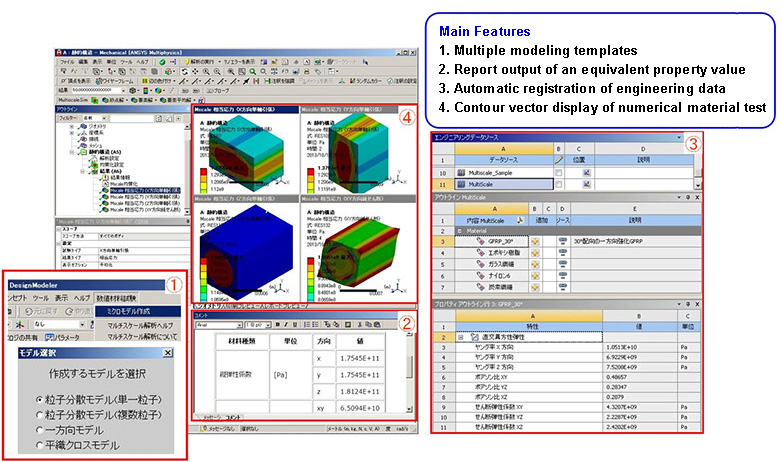 Micro modeling templates of multiple particle dispersion
Modeling template to create a model efficiently with respect to the distribution of microstructure particles of different sizes is newly added in creation and modification tool Ansys DesignModeler. Previously, it had been ideally assumed that particles of the same size are arranged uniformly. Since this template was implemented, we can perform the homogenization analysis with a more complex microstructure that consist of mixed various sized particles by modeling closely.
*Ansys DesignModeler is required in order to perform the homogenization analysis in the Ansys Workbench environment. Please contact us for more information.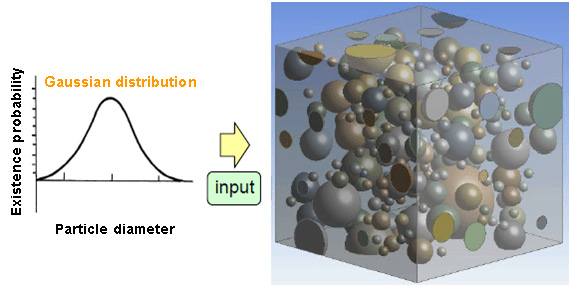 Linear homogenization analysis of the temperature dependence
If temperature dependence is present on a material consisting of the micro model such as fiber or resin, the ability to output the equivalent property value as temperature dependency has been added.