Multiscale.Sim2020R2
Support for Ansys 2020R2
Multiscale.Sim now officially supports Ansys Workbench 2020R2. Please note that GUI use of Mechanical APDL is not supported in this version.
Material Model to consider Damage-Plastic-Creep
A new material constitutive law has been implemented that takes into account multiple non-linear behavior, that are Damage and Elasto Plastic and Creep. The figure below shows the stress-strain characteristics when a uniaxial testing is performed using the material model. It is possible to take into account the fact that permanent strain remains when unloaded (Plastic), that the material behavior depends on the strain rate (Creep), and that the elastic modulus when unloading is lower than the initial state (Damage). Both isotropy and anisotropy can be taken into account. The curve fitting function is not implemented in the current version. For the detail, please refer the paper*1.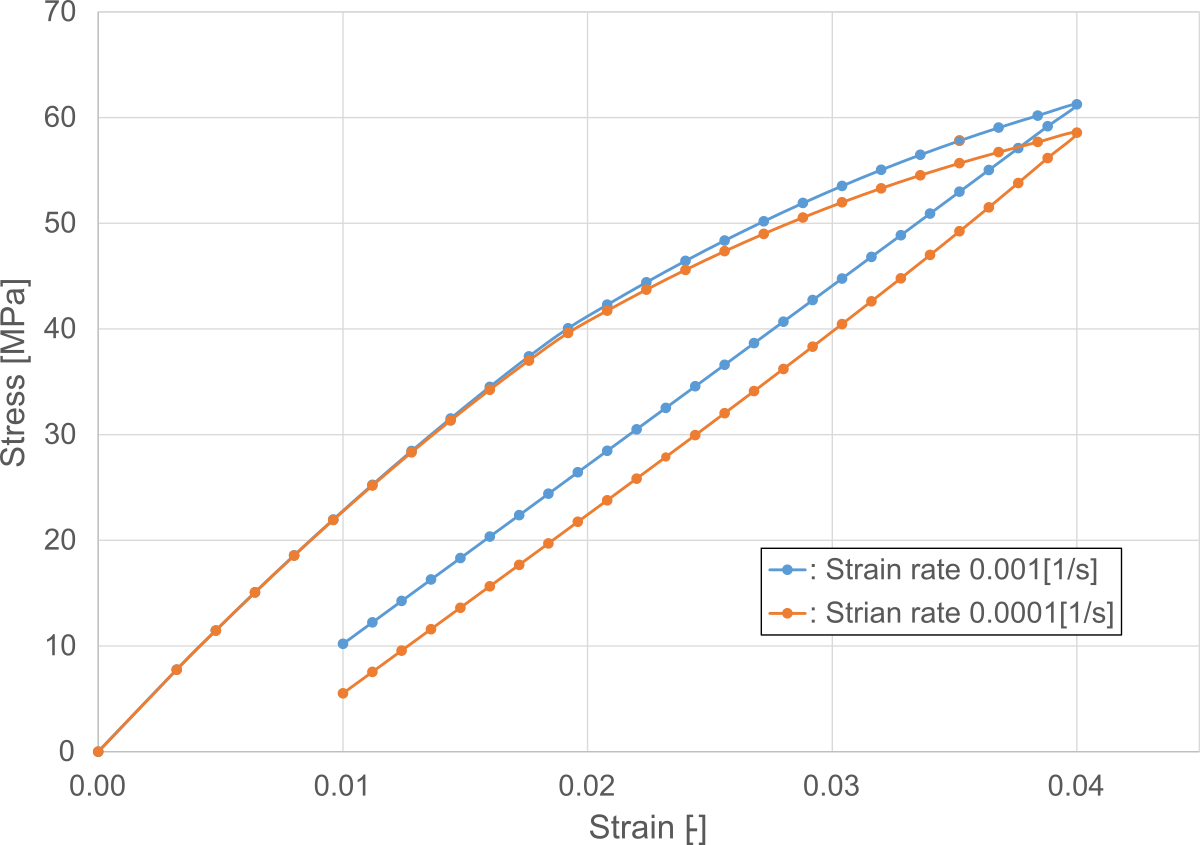 Stress-Strain curve obtained by the analysis for load unloading test using new material model.
Interface for Ansys GRANTA-MI (Only lattice structure is supported)
An interface for registering equivalent material properties obtained from homogenization analysis to GRANTA-MI has been implemented. By using GRANTA-MI, not only equivalent material properties but also various information such as the shape of microstructures can be centrally managed, thus dramatically increasing the traceability of the material database. In addition, a wide variety of reference functions are provided so that the accumulated material database can be used efficiently without becoming obsolete. In this version, only lattice structures are supported. Other microstructures will be supported in future versions.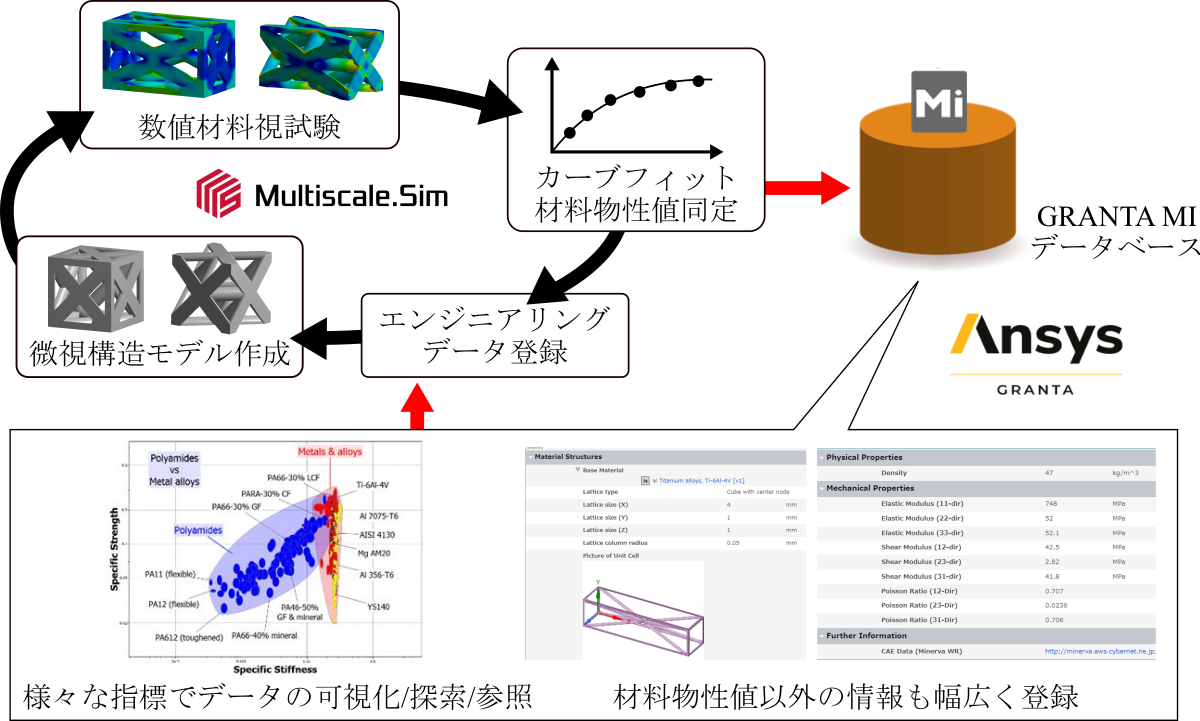 Image of Multiscale.Sim-GRANTA MI collaboration.
Interface for Moldex3D™
Multiscale.Sim 2020R2 is fully integrated with Moldex3D - the world leading CAE software for plastic injection molding analysis. Multiscale.Sim 2020R2 users can now seamlessly work with Moldex3D data.
Specify loading rate
It is now possible to set the end time when setting the load for numerical material testing. This makes it possible to obtain the load-rate-dependent material response for materials with strain-rate dependency.
Nonlinear Localization Analysis
Localization analysis now supports material nonlinearities such as elasto-plasticity and creep, as well as geometric nonlinearities such as large deformations.
Specification change
Help format to html
The format of the help document has been changed from chm format to html format. Please use a web browser to browse or print the contents.
Reference
*1 K. Terada,N. Hirayama,K. Yamamoto,J. Kato,T. Kyoya,S. Matsubara,Y. Arakawa,Y. Ueno and N. Miyanaga, Applicability of micro-macro decoupling scheme to two-scale analysis of fiber-reinforced plastics, Advanced Composite Materials, Vol. 23, pp. 421-450 (2014).