CMAS 18.2
・CMAS 18.2 has been released in Febrary 2018.
・CMAS 18.2 support Ansys Workbench 18.2 and Ansys Mechanical APDL 18.2.
Note that Mechanical APDL edition is implemented all CMAS functions, while Workbench edition does not support hyper elastic homogenization and nonlinear localization analysis functions.
New Features
Template to Create Micro Model
Ellipsoid Filler Dispersion Model
CMAS support new template to create microstructure which has multiple ellipsoid filler. The orientation of each filler can be defined as orientation function same as short fiber microstructure.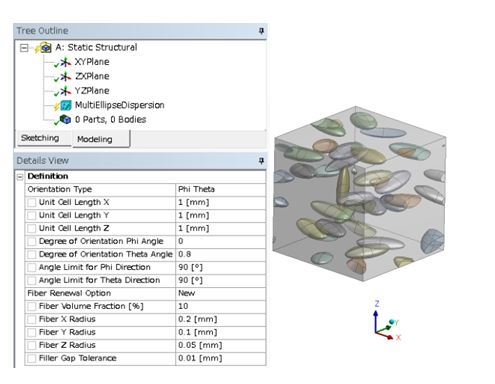 Overview of dialog and micro model having multiple ellipsoid filler.
Spherical Filler Dispersion Model
Argorithm to create micro model of multiple sphere is improved. It calclate the position of each sphere by solving motion equation. The force term are determined from penetration distance between each fillers. We can create robustly micro model having high volume fraction of sphere. Moreover, we can also directly speci fy the number of spheres in unit cell region.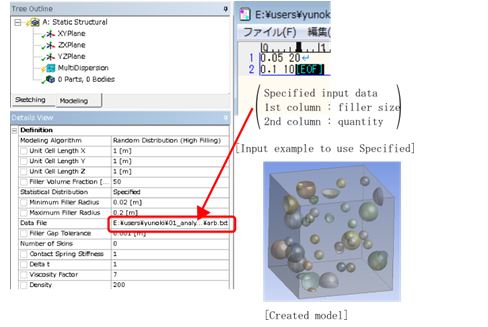 Dialog to specify the number of fillers directly
Short Fiber Dispersion Model
Distribution of length and radius for short fiber model can be specified.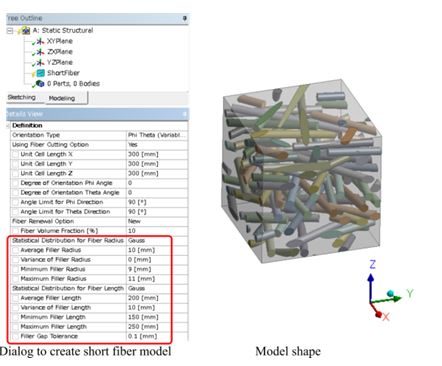 Dialog to specify the ditribution of length and radius for short fibers.
Template to Create Micro Model
CMAS for Workbench edition is implemeted creep homogenization analysis function.
GUI to perform numerical material testing for creep phenomena.