FAQ
FAQ lists some frequently asked questions about WAON prior to purchase and during inquiries, and corresponding answers. For information not provided in the following list, please send your inquiries by phone or using the Inquiry Form provided.
List of Questions
List of Answers
1. What scale mesh can be used at the maximum for WAON calculation?
The "ultra-large scale" in the title of WAON "the acoustic-analysis program for ultra-large scale simulation" means that the degree of freedom for calculation is large compared to conventional BEM. With conventional BEM, the degrees of freedom for calculation are generally limited to about 10,000 at the maximum in 1 CPU, 2-GB memory environments. In contrast, WAON is able to analyze problems with the degrees of freedom of up to about 60,000. Furthermore, in 1 CPU, 8-GB memory environments, conventional BEM is capable of analyses with the degrees of freedom of up to about 20,000, whereas WAON is capable of up to 250,000.
In general acoustic analysis, the mesh size dividing the wavelength (frequency) subject to calculation into six is required to assure accuracy. Consequently, the number of elements and degrees of freedom required to analyze the same problem (analysis model) will differ vastly between 100-Hz and 1-kHz calculation. Even when calculating only low-frequency bands, the degrees of frequency will be very large for objects that are huge such as automobiles and airplanes, even if the element size of the analysis model is made large.
Please see Product Information for details on WAON products.
BEM mesh for
low frequency range
BEM mesh for
high frequency range
2. What is the specification of the recommended machine?
Please read the operating environment information provided on the Product Outline page.
3. Can WAON perform analysis with the mesh used for vibration generation or the results of vibration analysis?
Unless there are problems related to the degrees of freedom, the mesh used for vibration analysis can be used as the mesh for acoustic analysis. (See also the answer to Question 1: "What scale mesh can be used at the maximum for WAON calculation?") However, WAON cannot be used to analyze elements other than shell elements (triangular, square) such as solid and beam elements. In such cases, these must be converted to shell elements made of the external surface, or mesh for acoustic analysis must be generated separately.
WAON also comes equipped, as standard, with an interface with ANSYS, a general-purpose FEM coupling analysis tool distributed by Cybernet, as well as many other general-purpose structural analysis software products to handle vibration analysis results. The vibration analysis results calculated using such structural analysis software (displacement, speed, or acceleration) are retrieved by WAON via the interface for use as the boundary conditions for acoustic analysis (particle speed boundary conditions).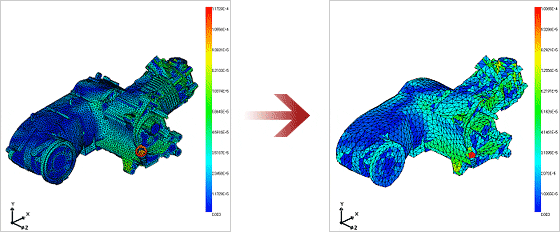 4. Can WAON define measured vibration data and acoustic absorption data?
"Table data (frequency, particle speed [real and imaginary numbers]) prepared in the text format can be retrieved by WAON and used as boundary conditions. If table data is available for measured impedance, impedance ratio, admittance, and admittance ratio, such data can be defined as absorption characteristics on the wall following retrieval."
5. What results does WAON produce?
"WAON calculates acoustic pressure, speed, intensity, and power. Contour and vector figures can be displayed on boundary elements and observed point mesh inside WAON.
WAON also has a function for outputting calculated results in the text form. Results can also be displayed in the graph form with versions 3.1 released in October 2008."
6. Are operations easy?
WAON is an acoustic analysis software product developed by Cybernet Systems. It has been designed and developed for easy use by designers based on Cybernet Systems' experience in providing technical support in acoustic analysis to date.
Although there may be some individual differences, users should be able to carry out acoustic analysis smoothly with WAON quickly.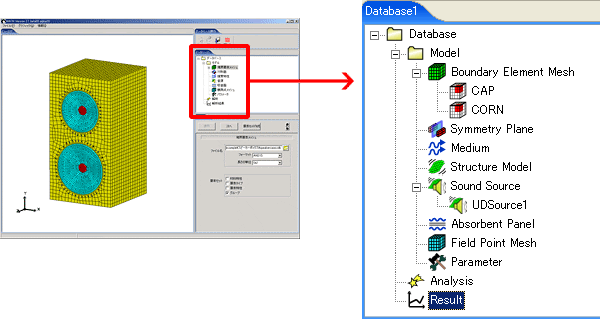 7. Is batch processing possible?
Yes. History of operations can also be saved in text files by WAON GUI operations.
By editing this command file when necessary, re-calculations can be executed easily.
8. How much is WAON?
Compared to other brand products, WAON is offered at a very cost-effective price range.
For details, contact WAON Support Desk.
9. What sort of applications can WAON be applied to?
WAON can be applied to the analysis of radiated noise problems from vibrating structures, such as engine and home appliance casing, and analysis of rising and falling of sound generated by point sources and heard around the structure.
WAON can also be applied to the analysis of problems involving large spaces, such as cars and ships, and those requiring the calculation of high-frequency ranges, such as head-related transfer function and ultrasonic vibration device. (See also the answer to Question 1: "What scale mesh can be used at the maximum for WAON calculation?")
From versions 3.0 released in September 2008, WAON can also be used for acoustic-structure coupled analysis using structure eigenvalue analysis results obtained beforehand. This has further extended the applications of WAON to analyses requiring faithful simulation of acoustic-structure interactions such as speaker and to the analysis of transmission problems.
10. Can mesh be generated with WAON?
WAON does not have a mesh generation function.
External mesh generation tools will therefore be required for creating analysis mesh models and observed point mesh (mesh displaying contour figures of results). It comes equipped, however, with various interfaces as standard for reading mesh data.
11. What is the licensing system of WAON?
WAON is based on network licensing. The licensing agreement is available in purchase license or rental license. For details, contact WAON Support Desk.
12. Is there a trial version for evaluation?
WAON is based on network licensing. The licensing agreement is available in purchase license or rental license. For details, contact WAON Support Desk.
Introduction of User's Application
This section shows actual application.