Consumer Electronics / Home Electronics
Here is a list of CAE / Simulation product from Cybernet by industries.
ANSYS
Multiphysics analysis tool
Versatile analysis tool which can be applied to structure, heat transfer, electromagnetic, piezoelectric, acoustic, thermal fluid, and drop impact. ?Its greatest advantage is a wide range of fully coupled analyses with pre-post solver unified in the environment localized for Japanese.
DXM43D
Dynamic Crosstalk Monitor for 3D
One of major technical problems about 3D display is so-called crosstalk, which is temporal mixture of information (images) which should be transferred to right and left eyes separately.
DXM43D measures and evaluates this crosstalk as well as the image's brightness.
LightTools
Analytical software for lighting design
Full-scale analytical software for lighting design with 3D CAD feature. The software can output results of tracing light beams and provide high-quality modeling through easy-to-use interface, conducting design, analysis, and evaluation all alike. Various fields like light guide panel for LCD, projector, lightings inside / outside of vehicle, and light pipe might find this useful.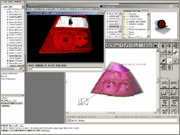 Optimus
Versatile optimized design support tool
A tool for automation, integration, and optimization for CAE-based design process. This can integrate a variety of solvers like structure, fluid, mechanism, control, electric circuit, and optical and optimize the composite region so that the restrictions on each region are all satisfied.
SpaceClaim
3D direct modeler
SpaceClaim is a 3D direct modeler which improves your concept-design environment or concurrent engineering using its intuitive operation, direct data sharing with various CAD tools, high-level compatibility with the versatile FEM coupling analysis tool ANSYS.
Xpedition xDX Designer
Xpedition(R) xDX Designer, formerly known as DxDesigner, provides a complete schematic design solution for design creation, definition, and reuse. It provides everything needed for circuit design and simulation, component selection, library management and signal integrity planning in a concurrent team-based design environment.
Xpedition xPCB Layout
Xpedition xPCB Layout is an essential part of the tightly integrated Xpedition Enterprise product family. By combining ease-of-use with highly automated functionality, it offers designers and engineers industry leading advanced technology to create today's most complex designs.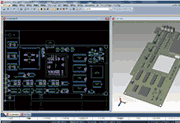 HyperLynx
The Xpedition(R) Enterprise design flow includes a complete suite of high-speed PCB simulation tools, powered by HyperLynx(R). They enhance crucial virtual prototyping capabilities: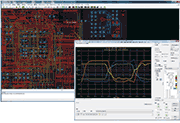 Valor NPI
Valor NPI products combine capabilities of design for manufacture (DFM) and new product introduction (NPI) to ensure smooth transition from PCB design to fabrication, assembly and test from any PCB design environment.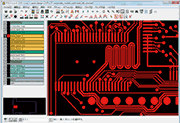 PADS
Until now, your choice of PCB design tools has been a frustrating compromise. High-end enterprise solutions that handle design complexity come with too much unnecessary overhead and the associated challenges of usability and cost of ownership. Desktop solutions are easier to use and have lower cost, but productivity bogs down as design complexity increases. PADS Professional provides the tools you need for the problems you have to solve: